Training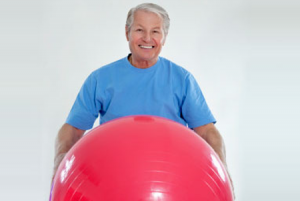 Fitness 4 Function is dedicated to helping older adults live longer, stronger and extending the ability to live independently.
Fitness 4 Function is about healthy aging and successful aging. Even if you have a medical condition you can often enhance and optimize your functional health and fitness level. Fitness 4 Function is about "aging in place"-- remaining in your present residence-- and adapting to the changes that come with getting older.
We come to your home even when your home is a foster home or assisted living community. The foundation for independent living and maintaining functional health is good strength, balance and mobility.
This unique in-home personalized service assures that older adults receive the necessary exercise and physical activity essential for functional living skills such as rising from a chair, climbing or descending stairs, answering the door, shopping, housework or recreational activities (e.g. gardening, sports, dancing), This is NOT Home Health Care but an alternative that keeps today's older adult in the community and improves the way they live with a healthier and higher quality of life.
What is Fitness 4 Function?
Fitness for Function professionals provide personalized exercise training and physical activity one to three times per week or more if desired. These supervised exercise sessions are tailored to the your health, functional fitness level and medical condition. The exercises are progressive and are adapted as you improve in function or as your medical condition and function changes.
Exercise training is performed at a safe level under the careful guidance of a fitness professional. All the physical activity and exercises follow your healthcare provider's recommendations.
We provide progress reports to family members or the healthcare provider upon request and can monitor blood pressure and pulse on a regular basis. In the event of an observed change in behavior, physical function, vital signs, or medical condition, we immediately report to the emergency contact.
Fitness 4 Function in Your Home
With Fitness 4 Function you can "age in place", enjoy your freedom, live an active lifestyle and avoid, postpone or reduce assisted living care adult foster care.
Fitness 4 Function can help:
Rebuild physical function: increase strength, improve balance and mobility, enhance range of motion in joints, enhance functional health
Stop, reverse or slow down the rate of physical decline associated with aging: Older adults can reduce the increasing need for assistance in daily living activities and lower overall health care costs. Fitness 4 Function is beneficial in restoring strength, stamina, balance and mobility after an illness or long-term bed rest.
Therapeutic Exercise and Post-Rehabilitation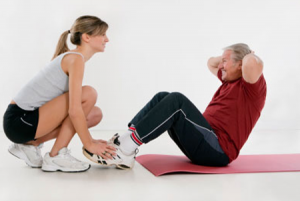 We assist in carrying out instructions from your healthcare provider while providing you with support and guidance ranging from physical therapy recommended exercise and therapeutic exercise, to daily walking and balance exercises. We provide a safe and effective bridge for our clients to cross from the structured clinical treatment to home-based exercise. We work with individuals following treatment and/or rehabilitation for clinically documented chronic disease, musculoskeletal injury, and disabilities.
Fitness 4 Function Professionals
Our fitness care professionals hold nationally recognized certifications and have extensive experience in senior and geriatric exercise and are certified in First Aid, CPR, AED.
Benefits of Fitness 4 Function:
Rebuilding muscle strength
Enhancing balance and mobility
Enhancing range of motion and flexibility
Reducing the risk for falls and fractures
Enhancing the immune system and reducing the risk for infection
Enhancing circulation and metabolism
Enhancing cognitive function
Personal assistance with walking
Cancer exercise recovery training
Monitoring vital signs
Supervised and safe exercise training
Monitoring vital signs
Call 317.513.3788 today for a free consultation and find out how we can bring long-term independence home to you.